---
TONGA AIRPORT NEW EXTENSION AT ARRIVAL AREA  (Contract with DAIFUKU Company , Australia) – 2019
Removal of old Carousel & Installation of two (2) new Carousels
AIR TRAFFIC CONTROL TOWER, FUA'AMOTU INTERNATIONAL AIRPORT  (In Contract with Fletcher Construction South Pacific Ltd) – 2018/2019
Conducting of Electrical and Earthing Services;
Supply and installation of electrical materials;
Supply Fire Protection goods;
Testing Electrical and Commissioning Services.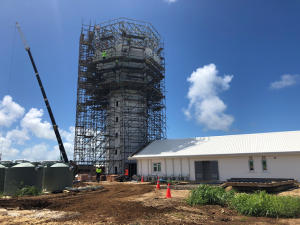 Tonga Customs New Building – Queen Salote Wharf (In Contract with Kiwi (Tonga) Ltd) – 2018/2019
Complete wiring of interior building;
Provision of LED Lights, Garden Lights & Parking Lights;
Supply of Air-Condition Units (Carrier Brands);
Supply & Install of Standby Generator.
COSTLOW SHOPPING CENTRE – Pea (Oct. 2017)
Installation of Underground Main Power Cables;
Complete wiring of entire building (interior)
SOLAR FARM 2MW – Taufa'ahau Rd, The Royal Villa Site at Matatoa – (April – September 2017) 
A six (6) months project contract with Singyes Solar Company (PRC);
JH Electrical successfully conducted the following works on site the Solar Farm as follows: 
PV Panel Installation, Wiring and Commissioning;
System Integration and Wiring;
Trenching and Cable Laying;
Lighting Protection and Earthing System Installation;
Transformers, Inverters and Monitor Box Installation;
Light Pole and Weather Station Installation.

NUKU'ALOFA CENTRAL POLICE STATION RENOVATION (In Contract with CCECC) – 2017/2018  
Full renovation of electrical works onto the entire Central Police Station at Nuku'alofa branch;
Supplying Lights;
Supplying of Toshiba Air-Condition complete units.
RETIREMENT FUND BOARD BUILDING (In Contract with CCECC) – 2016/2017 
New three story building for Retirement Fund Board at the corner of   Mateialona Rd and Railway Rd in Nuku'alofa;
Supplying Lights;
Complete Electrical Works; 
Installation of Standby Generator.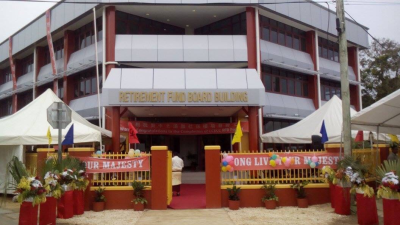 TONGA WATER BOARD – HA'APAI
A Tonga Water Board project pursuing a first time generator for Ha'apai to be used as a back-up for main office and electrical three phase booster pumps for the main overhead water tank. This main water tank supplies water to all water consumers in the villages of Pangai, Tongoleleka, Koulo and others.
TONGA WATER BOARD – VAVA'U
Another Tonga Water Board Project excelling into Vava'uas its first time for a generator to be installed as a stand-by generator for their Electricalmain Water Pump. This water pump is the main booster pump that pumps up water to the main water tank located on the top of a village namely, Mount Talau. The major role of the water tank at Mt Talau is to finally distribute water to residential homes and to all water consumers of the entire village.

---

NUKU'ALOFA PORT
The newest portable four(4) three phase switch board consisting of eight (8) three phase container power outlets per switchboard, link by 6 meter cable on cable tray with wheels between each switchboard.
This could be used and stored when needs especially on squash pumpkin season.
---
ANZ BANK
Due to customer prioritization, ANZ Bank values client relationships and needs thus established yearly contracts with JH Electrical in maintaining and servicing of generators for all ANZ Banks including the outer-islands. These generators backs up for all offices so as all banking services within their banks.
---
110KVA three phase generator for Parliament house and offices.
After a century from establishment of Tonga's Parliament, JH Electrical made the effort to install the first Three Phase Generator to assist the Parliament House and its offices.
---
8kw three phase solar grid connected for 5 schools
This is the first installment of solar power projects for these schools in Tonga namely, Beulah College, Tailulu College, 'Apifo'ou College, Tupou College, and Takuilau College. This newly established project not only assists with reduction in power bills but also enhances students' perceptions when viewing and observing the solar system.
---
First standby generator running on high voltage line(11kv/415v)
First standby generator running on high voltage line(11kv/415v) other than main power station A highly achieved project for the first time for Tonga Water Board that assists electric water pumps in supplying of water for consumers during power outages.
---
Project with SOPAC convertingTongatapu main water supply from diesel engine pump into electrical submersible water pump.
Wiring of water pumps that supplis water to consumers and diversion of diesel engine pumps to electrical water pumps assists with good and fast water flow.


---

September 2014
NEW LATTER DAY SAINTS CHURCH STAKE CENTRE AT TEUFAIVA

Supplying and Installing of all Electrical Works for new LDS Church Stake Centre Project at Teufaiva, Longolongo, Tongatapu. JH Electrical provides entire Electrical Equipments & Materials, and tools for diligent completion of practical work for the Stake Centre. This electrical work is conducted as per design specifications by

Oregon Pacific International Limited

which JH Electrical is working in close collaboration with. JH Electrical Contractor & Supplies signed contract on 15th September 2014 with Oregon Pacific International Limited and electrical work  is due to be fully completed by November 2015.

TONGA WATER BOARD